Voting has begun across Kansas and Rep. Ron Estes needs your support.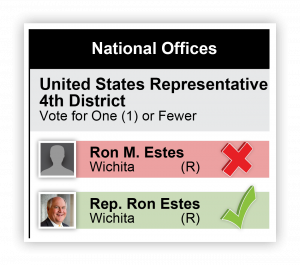 Democrat activists are trying to Mislead Republican primary voters.  There are two Ron Esteses on the Republican primary ballot. One is our Representative. One is an Imposter. Don't be fooled by Democrat dirty tricks. Vote for Rep. Ron Estes on August 7.
On your ballot there will be an option to vote for Rep. Ron Estes. There is also an Imposter on the ballot with the same name. Ron M. Estes is a candidate listed on the ballot. Remember that M is for Misleading.
Find your polling place here:
Kansas Secretary of State Voter View