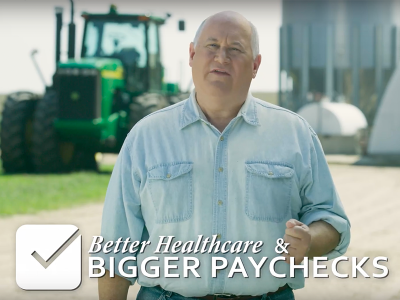 WICHITA, Kan. – Today, Congressman Ron Estes released his first ad of the 2018 election cycle. The ad is just over 90 seconds and will be featured on digital and social outlets. The ad, part of a comprehensive campaign to re-elect Ron Estes, reflects Congressman Estes' work engineering common sense solutions and championing our Kansas values.
The spot highlights Estes' personal biography, detailing his upbringing on a Kansas farm and his work as state treasurer returning millions of dollars back to taxpayers. The ad further discusses Estes' important accomplishments during his brief tenure in Congress including protecting our seniors and veterans, growing the economy, and standing up for our Kansas values.
"Congressman Estes has championed our Kansas values during his first term," communications director Austin Gilpin said. "This ad and the ones that follow will ensure voters in Kansas' 4th District know just how hard Estes has worked for us both in Congress and back in the district. He has voted to give our men and women in uniform a well-deserved raise, to lower taxes on nearly every working Kansan, and to protect the programs our seniors depend on and need."
The ad can be seen by clicking here.
###