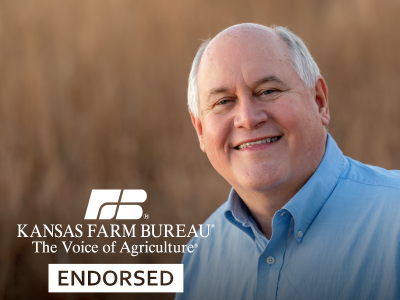 Today the Kansas Farm Bureau released endorsements for the U.S. House of Representatives, overwhelmingly choosing incumbent Ron Estes as their choice for Kansas' 4th District.
"Kansas farmers are integral to keeping safe, reliable food on the table here in Kansas and throughout the world – and the Kansas Farm Bureau stands right there with them, providing advocacy and education," said Estes. "Growing up on a farm, and with my mom still living on that century farm in northeast Kansas, I can attest to the importance of Kansas Farm Bureau for farmers here in the Sunflower State. Receiving this endorsement is an honor for me, especially knowing that it comes directly from Kansas farmers."
"During his time on the Hill, Congressman Ron Estes has proven himself to be a genuine friend of the farmer," said Kansas Farm Bureau President Richard Felts. "Ron Estes' brand of leadership continues to gain him respect and influence, as shown by robust grassroots support from county Farm Bureau organizations in south central Kansas. We look forward to his re-election."
Estes received the Kansas Farm Bureau endorsement in 2017 during the special election and when he ran for re-election in 2018. He has consistently advocated for Kansas farmers and ranchers during his tenure in Congress. In the 115th and 116th Congress, Estes:
supported the 2018 Farm Bill,
pursued the removal of limits on the farm income baseline during the COVID-19 pandemic,
successfully campaigned against the burdensome Waters of the US (WOTUS) rule,
requested that the Conservation Reserve Enhancement Program (CREP) be implemented immediately following the 2018 Farm Bill passage to ease the stress of local farmers regarding the Fish and Wildlife Service water requests for Quivira,
worked with the Kansas and Missouri federal delegations to bring USDA's NIFA/ERS to the Kansas City metro area,
and received the Wheat Advocate Award for 2020 from Kansas Wheat.