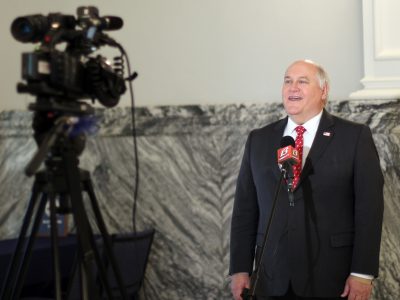 Today U.S. Rep. Ron Estes filed for re-election to serve Kansas' 4th Congressional District with the Kansas Secretary of State's office in Topeka. Estes was first elected to Congress in an April 2017 special election. He handily won re-election in 2018, winning by nearly 20 points.
"It's been an honor to serve south central Kansans in our nation's capital, and the current pandemic is a reminder that we need common sense leadership in Congress," said Estes. "As I return home to Wichita each week, Kansans share their concerns and values with me that I take back to Washington."
Since being elected, Rep. Estes has been a champion for Kansas families, workers, small businesses, farmers and veterans. Following his swearing-in, he defeated air traffic control privatization that would have been harmful to the general aviation industry, strongly supported the Tax Cuts and Jobs Act that put money in the pockets of hardworking Kansans, led the charge for HHS to implement the Protect Life Rule which prevented abortion providers from receiving Title X Family Planning tax dollars, was named to the USMCA whip team to help push this critical trade deal across the finish line, reintroduced the Kelsey Smith Act, introduced the Down Syndrome Discrimination by Abortion Prohibition Act, and secured three additional KC-46 tankers.
Rep. Estes was also named to the influential Ways and Means Committee in 2019, bringing his business and state treasurer background to the committee with jurisdiction over trade, taxes, health care and retirement security. Having served less than a full term at the time of his appointment, his quick selection to this critical committee for Kansas and the country displayed the respect his colleagues have for him.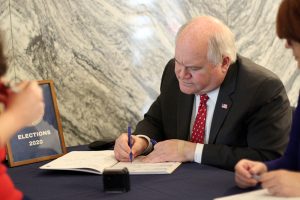 Additionally, outside organizations recognize Rep. Estes' commitment to Kansas and his leadership in the House. Just last week, the Kansas Farm Bureau resoundingly endorsed Rep. Estes for re-election. He also just received a 97% rating from the American Conservative Union – the highest score of any member in the Kansas federal delegation. He's also received the U.S. Chamber of Commerce Spirit of Enterprise award for his support of small and local businesses, the State Financial Officers Foundation Financial Freedom Award, the Aircraft Owners and Pilots Association Freedom to Fly award for his support of general aviation, and the Wheat Advocate Award from Kansas Wheat.
Kansans are also showing support for Rep. Estes, with 75.6% of donations coming from Kansas – the most of any Kansas House member running for re-election. Rep. Estes has continued to show strong fundraising numbers each quarter with a broad base of support from throughout the District. At the end of the first quarter, Rep. Estes has raised more than $1.3 million in this election cycle and enters the second quarter with nearly $775,000 cash on hand. Thanks to his many supporters, Rep. Estes is committed to assisting conservative candidates on the ballot throughout south central Kansas.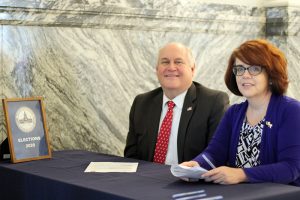 Rep. Estes remains committed to the people of the 4th District and has a strong track record of assisting Kansans through robust constituent services. Since being sworn in, Rep. Estes' staff has met with individuals and families to help them with the IRS, Veterans Affairs, Social Security, passport issues, and other federal agencies. Throughout the pandemic, he has ensured that his office is available to work with Kansans experiencing difficulties. His continued connection to this District during the COVID-19 pandemic has allowed him to better understand the current needs of his Kansas constituents and talk through solutions that benefit them now and as our country reopens.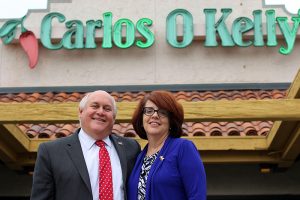 "Before the pandemic, we saw a robust economy that was focused on middle-class growth and truly was the envy of the world. A global pandemic that impacted nearly all nations has forced us to put that booming economy on hold," said Estes. "The common sense, conservative policies that expanded our economy and created more opportunities for Americans before COVID-19 will be what propels our country into the future. While these are challenging times, I've never been afraid to tackle the issues facing our nation and will continue to bring Kansas common sense to Washington."
Rep. Estes is honored to serve the people of the 4th District in our nation's capital and works hard every day on behalf of his fellow Kansans with the same strong work ethic he learned on the family farm.